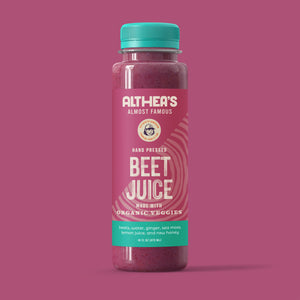 Hand-pressed fruit juice made with beets, ginger, sea moss, lemon juice, and raw honey. Beets are a great source of vitamin B & C, potassium, sodium, iron, and calcium. Rich in antioxidants and formulated to provide optimum levels of essential Nitric Oxide. Beets are a great source of dietary fiber and are low in fat, cholesterol, and calories. Beets can also lower blood pressure, balance oxygen use, improve blood flow throughout the body and increase stamina during exercise.
16oz bottle or a gallon


Hand-pressed

BPA Free 
This sauce is REALLY good. It's rich with distinct flavors and still versatile enough to be used in a variety of ways.
Nick
This sauce is so good, it can make dirt delicious!
NINI
I love both flavors. We use this jerk sauce on everything and it was a big hit at a recent BBQ.
Jennifer