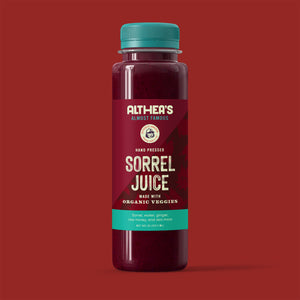 Made with Sorrel, water, ginger, raw honey, and sea moss. Sorrel is a great source of antioxidants, which are beneficial compounds that protect your cells from damage by neutralizing harmful free radicals. Antioxidants may help prevent many chronic conditions, including heart disease, cancer, and type 2 diabetes.
16oz bottle or a gallon

Hand-pressed
This sauce is REALLY good. It's rich with distinct flavors and still versatile enough to be used in a variety of ways.
Nick
This sauce is so good, it can make dirt delicious!
NINI
I love both flavors. We use this jerk sauce on everything and it was a big hit at a recent BBQ.
Jennifer